9 Advantages of An Electric Scooter Over A Traditional Car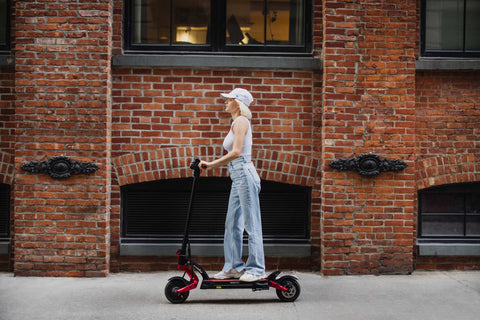 In the past few years, more and more people have joined the electric scooter revolution, which has been quietly sweeping the nation. In reality, e-scooter trials have just started in a number of places around the nation in an effort to alleviate traffic and be more environment friendly. An electric scooter has numerous advantages over a typical car, like affordability, convenience, and sustainability. In this post, we will examine nine incredible advantages of Kaabo wolf warrior 11 pro. Interested? Take 3 minutes to complete the reading.  
More Ecological
Electric scooters are unquestionably a far more environmental friendly choice than your typical gasoline or diesel vehicle. The wolf warrior 11 pro provides up to 90 miles of mobility, and thanks to strong 60V 35AH lithium-ion battery, what all you have to do is to recharge it at the end of the day!
Lower Purchasing Price
An electric scooter is much more affordable than a car, even when purchased with monthly payments. Economical price generates a larger available market for Kaabo USA's electric scooters.
Reduced Operating Costs
Electric scooters are far more cost-effective to operate than regular cars, in addition to being less expensive to buy. The only expense you will have is for the electricity needed to recharge the battery because you won't need to pay for maintenance, services or taxes.
Outstanding Accessibility
Since designed for a single rider, electric scooters are substantially smaller, far better accessibility and maneuverability than a typical automobile. They are an excellent option for people searching for a simple way to travel around on a daily basis because they can fit down small roads, along the pavement, on trails, and in bike lanes.
Simple Storage
The Kaabo Wolf Warrior 11 Pro is suitable for convenient storage at home or at work because it is compact and collapsible. You don't need to worry about a driveway, garage or parking permit as you met with a regular car because they fit neatly into small spaces.
Easily Transportable
Convenient transportation is another advantage of the tiny size. Your wolf warrior is simple to take you everywhere and is ready to unfurl, get on, and get off when you arrive, whether you're taking the train, tube or bus. Furthermore, you can easily fit your electric scooter in the trunk of any vehicle.
Health Advantages
Electric scooters allow users to get outside to breath fresh air, which is a wonderful way to start the day. Even though the 1200W High Torque dual motor provides the majority of the efforts, these scooters nonetheless provide excellent workout and support for balance.
They're Fun!
Lastly, they're enjoyable! An electric scooter is a nice and pleasurable way to move around because it is sleek, refined, and fashionable.
---
Related Product
Newletter
Promotions, new products and sales. Directly to your inbox.