What to look for when choosing an electric scooter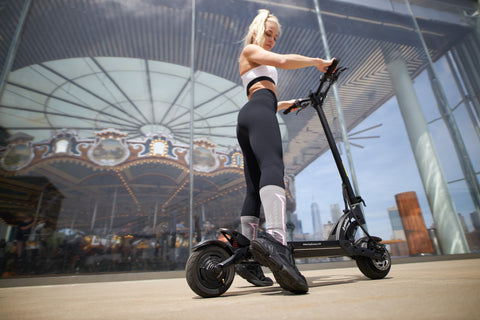 When you decide to buy a scooter, you have the headache of which e-scooter to purchase. There's a lot to handle from models, prices, features, and numbers. You have to look at your budget, needs, unique situation, and the fear of getting stuck with an expensive mistake. After covering all the bases of your choice, it boils down to gut feeling, and this article aims to give your gut feeling a nudge on what to look for. 
Budget
It makes sense to get a scooter within your price range. A model like the Kaabo Mantis 8 goes for about $1,119, paid in installments. The Kaabo Mantis 8 is a budget-friendly alternative that offers the right specs at a budget price point.
Max payload
Today, most electric scooters are made for big riders and adults and can support up to 200lbs payload. This ensures that it can have peak performance even when loaded to the max. Look for a scooter with adjustable handlebars so you can set the ideal handlebar height for a comfortable ride. The Kaabo Mantis 8 has a 264max load capacity and can ride comfortably at 165lbs. The Mantis 8 is made for big riders.
Portability
Technically the most important feature of an electric scooter. To make it easier to choose, think of how much weight you are comfortable carrying for short commutes and how often you will be carrying it around. A scooter like the Kaabo mantis 8 measuring 45.6*23.6*18.7 inches (1160*600*476mm), when folded, is small enough to store conveniently. The lightweight 53lbs construction makes it much easier to carry around.
Speed
If you want to feel the buzz when riding, you want the daily dose of an adrenaline rush, or you need a scooter that accelerates instantly, a scooter with a max speed of around 25MPH is at that sweet spot. Speed will depend on how loaded the scooter is and the terrain or incline of the road. Such high speeds will need a powerful motor and draw more power from the battery. With efficient 1000W dual motors and a 48V battery, the Kaabo Mantis 8 fits the bill.
Motor and range
A single motor can have enough power for a daily commute, but why settle for one when you can have two? A dual brushless motor setup like the one on the Kaabo Mantis 8 delivers more raw power and is a built-in fail-safe in itself.
Range relates to the battery capacity and motor power. With dual 1000W motors, you can get close to 25 miles on a full charge. At a slow speed, you can get more range, and if you choose to go eco or single motor, you sacrifice performance but get more range. Kaabo Mantis 8 was designed with power and functionality in mind with the capability of powering through rough terrain and extended range due to motor efficiency.
Charging and batteries
Your electric scooter should have enough battery to last you through the day or at least to your destination and back. As a daily commute essential, the Kaabo Mantis 8 has a 48V 13Ah battery with a range of 25miles. This is about the most of short commutes you can have on a day for most people. Charging time must be relevant to you and not too long, so you are forced to ride on a half charge occasionally. A scooter like the Kaabo Mantis 8 charges for about 6.5 hours, making overnight charging the go-to option.
Tires & Brakes
The wider the diameter of the wheel, the better. Wide tires like the 8" tires on the Kaabo mantis 8 not only provide more control and traction, they improve balance and make negotiating corners much easier. A strong and reliable braking system is a must-have for all scooters. Brakes come in different configurations, but a disc brake like the 120mm Disc Brakes on the Kaabo Mantis 8 offers more stopping power and is lighter, reducing the overall weight of the scooter wheels.
Suspension
A suspension system is essential in smoothing out bumps and shocks on rough terrain. Without it, you will get vibrations on the handlebars, which makes riding for long-distance uncomfortable. If you want a smooth ride, a scooter with a solid suspension and shock absorbers like the soft ride suspension and C-Type Spring shock absorber on the Kaabo Mantis is a nice touch. A strong suspension makes a lot of a difference, especially when the roads aren't as smooth as you'd want them or if you like a little off-road adventure. Aiding the suspension is pneumatic tires which improve the shock absorption function and improve handling.
Choosing an electric scooter should be a head-scratching exercise; the Kaabo Mantis lineup makes the choice much easier with its all-in-one design that ticks all boxes.
---
Related Product
Newletter
Promotions, new products and sales. Directly to your inbox.