Why Are People Opting for E-Scooters?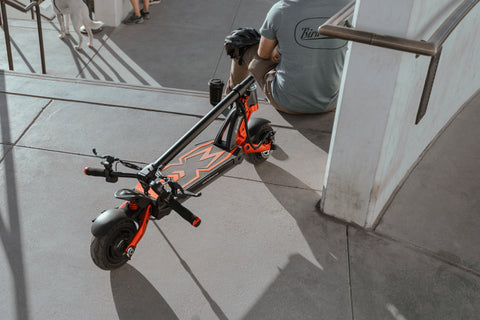 You've probably noticed that electric scooters are becoming incredibly popular. Once thought to be a fun item for kids, electric scooters for adults are a very popular trend now due to the many benefits and development of stylish e-scooters. If you've been thinking about purchasing an electric scooter but are on the fence, let's take a look at why you absolutely need an electric scooter. 
Live a More Sustainable Lifestyle
One of the biggest benefits of e-scooters is that they are eco-friendly. This has led to their popularity, particularly in many environmentally conscious areas such as San Diego and the Bay Area. Electric scooters help us lower our carbon footprint. They use a relatively small amount of electricity while producing zero emissions. As such, they are great for air quality as well as helping improve the breathability of busy cities.
For example, the Kaabo Mantis 8 has 2,200 watts of maximum power output with a 48 volt 13 AH battery. This is an electronic scooter for adults that can reduce your commute time while help you do more to protect the planet. With a maximum range of 25 miles, it is the perfect vehicle for people living in cities.
Compact and Portable
Another great advantage of e-scooters for adults is that they are compact and portable. This allows them to rather easily be taken onto public transportation such as buses or subways. This can help improve your overall commute cause we can get to the subway station very quickly by e-scooters. Want to bring your e-scooter on vacation? No problem, it can easily be packed in the trunk of your car.
Kaabo Mantis 8 can quickly and easily fold down to 23.6 x 45.6 inches, making it easy to go from traveling to carrying. This means you can easily bring your e-scooter into the office during the workday. This electric scooter was specifically designed with an emphasis on convenience.
They are Fun to Drive
If you haven't driven an electric scooter in a few years, prepare to be impressed! Technology has greatly improved and top of the line electric scooters for adults are now designed with power in mind. They are quite zippy and can get you from point A to point B much faster than you would expect.
The Kaabo Mantis 8 was designed to replicate the exhilarating experience of driving a sports car. It was created with dual motors that allows it to accelerate quickly, reaching a top speed of 25 miles per hour. Additionally, this adult electric scooter has a state of the art suspension system that ensures a smooth ride. Plus, with the ability to handle inclines of up to 20 degrees, you'll be able to take your electric scooter in more areas than ever before.
They Will Save You Money
The price of electric scooters may surprise you. They are now affordable enough to easily own your own. For example, the Kaabo Mantis 8 is a top of the line electric scooter for adults that only costs $1,199 and there is a huge  $150 discount in pre-order now. For people who live in urban areas, this is obviously much cheaper than purchasing an automobile for your commute.
 But even if you have both a car and an e-scooter, you will still see cost savings. The more places you use your electric scooter to commute to, the more money you'll save. With gasoline seeing incredibly high prices, averaging over $4.50 in California, using your electric scooter to get around your neighborhood will add to immense savings for your pocketbook. Considering their lengthy lifespan, this will more than pay for the scooter over its life.
They're Stylish and Durable
The days of awkward-looking of electric scooters are long gone. Modern electric scooters for adults are designed to look stylish. Whether opting for a sleek black color or the eye-catching red and black design, the Mantis 8 from Kaabo USA has a high-quality look to match its impressive handling and ride.
Additionally, the best electric scooters are durable. The Mantis has an aluminum alloy frame that is forged in one piece, meaning it is quite durable. In fact, aluminum is more rigid than steel while having the benefit of being lightweight. When adding on the dual motors and high-quality suspension, you get a resistant e-scooter that can even tackle trails.
If you are ready to get the best e-scooter on the market, join the Kaabo USA community today by pre-ordering the Kaabo Mantis 8. You'll be thrilled with the performance, the look, the money saved, and your contribution to the environment.
Welcome to share your photos with Kaabo Mantis 8 and we'd love to share them on our official social media. Join Kaabo FB Community and follow our Instagram to get more beautiful pictures and great videos.
---
Related Product
Newletter
Promotions, new products and sales. Directly to your inbox.