Why get a dual-motor scooter?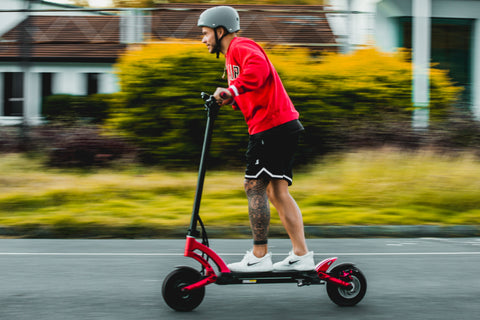 The only thing better than one powerful motor is two powerful motors.
Try as you may, it's hard not to get swept up by the urge to experience how fun it is to ride a scooter close to 30mph. And after you've had a taste of the single motor scooter, it won't be long before you outgrow it and seek out more thrill. And that's where the dual-motor scooter comes in; it's the next step in the ultimate e-scooter experience.
Dual motor scooters have propulsion systems built into the front and rear tires and power the movement as a whole unit so that instead of a single motor building up momentum, the dual motors send power to every wheel. This is essential in enhancing the speed and adding flair to your ride.
A dual motor scooter like the Kaabo Mantis 8 churns out a beastly combined peak output of 1000W and 25 N.M motor torque. All this power comes from the brushless dual motors on each wheel. A dual motor scooter like the Kaabo Mantis 8 is more than a pretty face; with dual motors engaged, it can quickly get up to 25MPH. Dual motor scooters are considered the perfect scooter for anyone seeking punchy torque and zippy acceleration.
But do you really need this much power? Well, it depends but having the backing of a dual-motor comes in handy when cruising isn't exactly as fun anymore.
They are fast
 A dual motor scooter adds that missing healthy injection of adrenaline and thrill to any ride. These beautiful beasts are perfect for when you're ready to take the next step and level up your scooter game. The dual-motor combo on the Kaabo mantis 8 is every adrenaline junkie's fix; the 1000W combined power of the brushless motors pumps out around 25 N.M torque and a top speed of 25MPH. While this may not sound fast on paper, it's pretty fast on a two-wheeler. With 25N.M torque, there's not much that will slow this scooter down, hills and off-road trails included.
Instantaneous acceleration
A dual motor electric scooter is ideal for city dwellers looking for a fast-paced, urban-thrill ride with the perfect blend of restraint and raw power. A dual motor drivetrain like the Kaabo Mantis 8 delivers impressive power, and a dual controller and throttle like the Sine Wave controller give you the reigns to accelerate or decelerate with ease. A dual motor scooter is ideal for a casual commuter while still packing enough power in the engine for a smooth ride on bumpy roads without grunting. A dual motor scooter responds well to the throttle, and the torque or acceleration makes it pick up easy even on inclines of up to 20 degrees.
Savage torque
A dual motor scooter boasts power by the bucketloads. With brushless dual motors with a peak output of 1000W and 25N.M torque, the bad boy chews up hills, trails, and mountain paths without breaking a sweat. A true powerhouse of a scooter, the Kaabo Mantis 8 offers enough torque for adrenaline seekers that seek their much-needed high-performance fix. So, whether you want a scooter that can power through inclines, or you are a big rider who wants to experience the thrill without worrying the electric scooter will bottom out, a dual-motor scooter is the ideal one. With two 500W ferocious motors and a Sinewave controller, the rider can decide how much oomph they want to feed the scooter, whether it's power saving or going pedal to metal; the scooter can do it all.
Much more stable
A dual motor scooter like the Kaabo Mantis 8 sports an improved design with power distributed evenly through the deck, chassis, and wheel assembly. In turn, this design and configuration provide more traction when braking, and since the motor is placed in the back, you get a better grip and stability when going up inclines.
Built for the road
With a dual motor setup, getting up to speed uses less total power, as well as the added effect of momentum with the extra weight helps on continued riding. The dual high wattage motors on the Kaabo Mantis 8 give an extended range with a max range of up to 24.8 miles. With the added power, the scooter can comfortably handle heavy loads; think rider, backpack, and anything else that can be carried on an electric scooter up to 264 lbs.
Backup motor
Two will always be better than one, especially where power is involved. With a dual-motor scooter, you have the added advantage that you have a second one to rely on if one fails for whatever reason. A dual motor system is its own built-in fail-safe; if one motor fails when you are riding, you can limp home on the other and avoid the uncomfortable call to have someone pick you up (and your 120LB scooter) or take a long walk while pushing it!
Shock absorption
Installed on the head, the spring makes the level of  the electric scooter's armrest in a straight state. The  generated pressure that the electric scooter rides through the uneven road section is offset by the spring's rebound force, which plays a shock absorption effect. For rear one,  the shock absorber is connected to the pedal because the pedal bears the overall pressure of the user. Hence, the rear shock absorption design also plays a vital part in scooter's overall shock absorption.
Speed, stable, savage torque, shock absorption and other performances are totally a dual-motor scooter can provide rather than single motor one. Meanwhile, lacking any one perfermance can not assure your fantastic riding experience.  Now that you decide to buy a scooter, why not choose the best dual-motor one? Now that you buy a dual-motor scooter, why not click Kaabo USA's extraordinary scooters to take one? Our gorgeous MANTIS and WOLF WARRIOR are welcom to your coming!
https://youtu.be/LtuGltBu75s
---
Related Product
Newletter
Promotions, new products and sales. Directly to your inbox.