What are the benefits of owning an electric scooter as a student?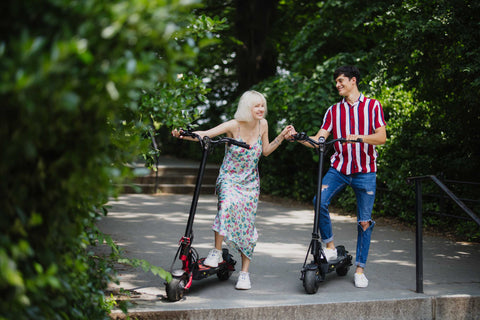 If you're a student, you know that finding reliable transportation can be a challenge. Between classes, studying, and socializing, there never seems to be enough time in the day. Electric scooters are a very good idea for students. Navigating the campus and the city with ease, saving a ton on transport costs, being less late for class or the part-time job, and not having to drag that bulky backpack, make the electric scooter a powerful ally for any student.  In this article, we'll discuss some of the benefits of using electric scooters as a student!
Affordable Ride
Electric scooters are a more affordable option than cars or public transportation for students. With so many other expenses, like tuition and books, having a mode of transportation that is both affordable and convenient is key. In addition, electric scooters don't require gas, which can save you money in the long run.
They're also easy to maintain—all you need to do is charge them up! Assuming you use your electric scooter regularly, the average cost per month is around $30. This makes them much more budget-friendly than other options! You can also read this guide here and learn how to get started with electric scooters. It's really simple and easy once you get the hang of it. Mantis 8 is found in the front and rear wheels. This 1000 Watts of Combined Power provides a maximum of 25 mph of speed and the ability to climb up to 20-degree inclines. It can fully meet the daily commute of students and does not require frequent charging.
However, college students can also opt for ride-sharing options if their campus allows them. These will be more cost-effective for students who don't need to use e-scooters every day. Overall, e-scooters offer a more affordable way to commute.
Convenient
Another great benefit of electric scooters for students is that they're extremely convenient. If you live on campus, getting to your classes can be as easy as riding your scooter to the nearest building. No more waiting for the bus or searching for a parking spot! Electric scooters are also small and lightweight, so you can easily carry them with you if you need to. This is especially useful if you live off-campus and need to commute to school.
You can simply fold up your scooter and take it with you on the train or bus. It's that easy! Also, if you have a tight schedule, you can use your scooter to get around quickly and efficiently. For example, the Mantis 8 offers a 53lbs foldable electric scooter that offers up to 25mph and delivers up to 24.8 miles per charge.
Accessible and Easy to Learn
Riding an electric scooter is perfect for college students since they don't require any license and training. Unlike riding a car, a college student will need to undergo driving lessons and pass a driving test to drive a car legally. Most states and territories don't need a license and e-scooter registration to ride one in public. Anyone of legal age can ride them as long as you follow the speed limit, e-scooter size, and other specs stated in your city's e-scooter law.
Moreover, riding e-scooters doesn't have a steep learning curve. Riding a bicycle requires a bit of practice, balance, and confidence. Although riding e-scooters also needs the same, they require less effort and are easier to learn. When learning how to ride an e-scooter, make sure to practice in a safe environment first like your yard or inside the campus.
Zero-emission Trips
Electric scooters are also much better for the environment than cars. They don't produce any emissions, so you can feel good knowing that you're not contributing to pollution. In addition, electric scooters are powered by electricity, which is a renewable resource. This means that they don't rely on fossil fuels, like oil and gas. As a student, you probably care about the environment and want to do your part to protect it.
Using an electric scooter is a great way to do that! Also, if you're interested in learning more about electric scooters and their environmental benefits, we suggest reading more about them online.
They're fun
Also, electric scooters are just plain fun to ride! If you're looking for a way to add some excitement to your daily commute, an electric scooter is a perfect solution. They're fast, nimble, and can even do tricks! You can also join a community of other electric scooter enthusiasts and make some new friends. There are even racing leagues for those who want to compete. Whether you're just looking for a fun way to get around or want to get competitive, electric scooters are a great option.
Also, if you're worried about safety, don't be! Electric scooters are perfectly safe as long as you follow the proper safety precautions.
---
Related Product
Newletter
Promotions, new products and sales. Directly to your inbox.