Best Electric Scooter for Commuting in a City
Nowadays, electric scooters are gradually becoming one of the main ways for urban commuting. Without oil and gasoline, electric scooters offer an eco-friendly  alternative to local commuting and without the maintenance costs of cars or other  vehicles.
In urban environment, electric scooters are not only a green way to get around, but they are a more efficient solution for congested cities. If you want to get into the scooter world, there are a range of options to meet different needs - whether you need an easy commuting way or an exciting off-road experience.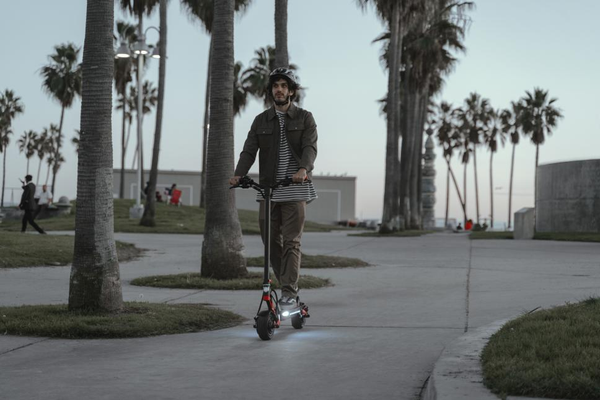 I guess that you have must saw some guys who riding electric scooters traveling around the streets of the city. However, it can be challenging to choose your own one. If you've been considering buying an electric scooter, you've certainly found that there are lots of models to select from. To help, today I want to talk about Mantis 8 - the best electric scooter for commuting in a city.
How to choose best electric scooter for commuting in the city? 
· Smooth and tubeless tires  
To choose an e-scooter for daily commuting, you should first know that smooth tires are the best for riding on pavements and city roads. There's no need for all terrain tires. Actually all terrain tires consume more electricity and don't have as good grip on smooth surfaces. That's why scooters meant for cities have smooth tires.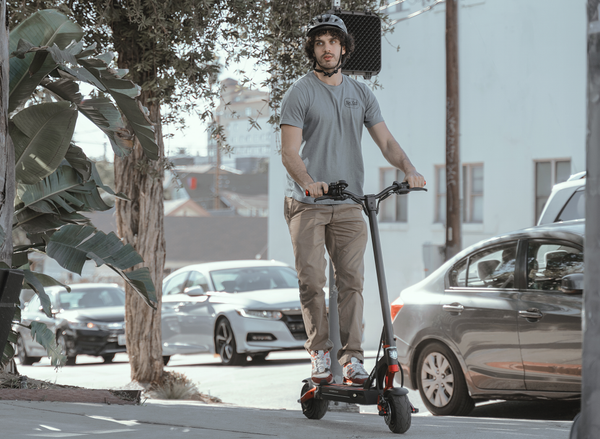 Big tires have the benefit of extra traction because they cover a bigger area but if you have no need for the traction then smaller tires are better because they have less friction.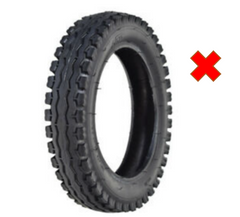 Also, Mantis 8 is equipped with two eight-inch tubeless tires, which means it has greater puncture resistance as well as abrasion resistance.
· Folding electric scooter 
Carrying a non-folding e-scooter is very awkward and difficult - especially in the staircase. A folding electric can be easier to fit in an elevator and some public transport like the metro.
What's more, if you want to take your e-scooter inside your house, office or in the trunk of your car, it takes less of precious space.
Mantis 8 is equipped with a two-step folding system, which means you only need a few seconds to fold up the body. Do not underestimate these few seconds, believe me, you do not want to carry a huge body after a hard day's work.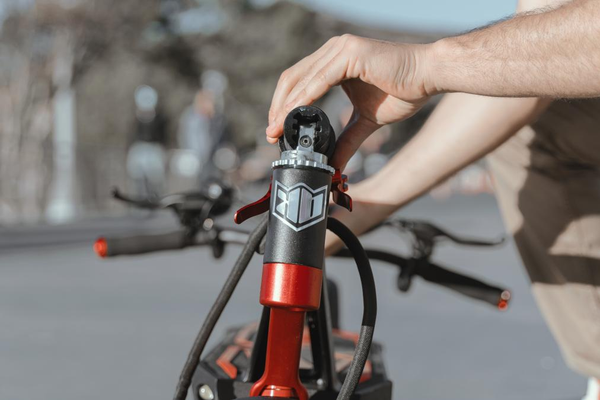 · Battery - Enough range for the commute.
If you have ever used Scooter-Sharing e-scooters, you must know they are notorious of how hard it's to find one that has enough range/battery left for your commute but having your own you don't have this problem.
Mantis 8 with its range of 24.8 miles should be enough for most commutes and if not then the charger is compact enough to bring with you at work where you can charge it during your workday. It takes only three hours to fill up the Mantis 8, so don't worry even if you use it continuously. 
· Light weight - More important in city commute than high speed and performance.
I am proud to say that Mantis 8 is excellent because it's still quite light at 53 lbs, which is the lightest one in the 1000W motor. Mantis 10 (66lbs) is great with it's awesome performance but unless you are a heavy adult, want the extra performance, or need the additional range typically Mantis 8 is enough and lighter to carry than 10.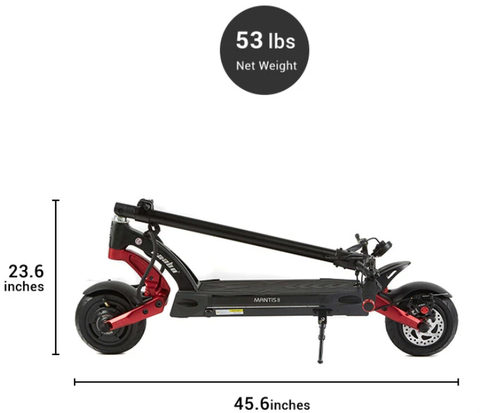 Because it is lighter, it is easier to handle and it's 25 MPH top speed is enough for city as there's not so many chances to ride faster in the rush hour and cities anyways. 
· Fun Factor
A great e-scooter like Mantis 8 helps you to start your happy day. E-scooter commuters can actually enjoy their mornings by riding through the city on a fun e-scooter instead of cramming into a full metro.
Maybe there are some lighter Commuter e-scooters than Mantis 8 but none of them have the same fun factor as Mantis 8 has with its higher performance and acceleration. And you will be enjoying the different mode if you trya variety of cycling experience with same scooter. The lightest commuter e-scooters always sacrifice the range and performance for the very light weight but that's not what Mantis 8 is aiming for.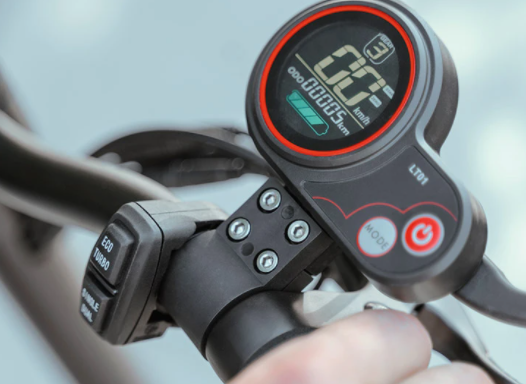 Mantis 8 is a great commuter e-scooter to use in the city but it will surely make you smile on joyrides during your days off too. 
· Build Quality
I believe you don't want some cheap and low-quality electric scooter for commuting, because taking the extra time to take care of your scooter in the midst of a busy schedule can be a headache. Mantis 8 is just the reliable one, according to our database, Mantis 8 has a very low failure rate, so feel free to choose it.
---
Related Product
Newletter
Promotions, new products and sales. Directly to your inbox.