Celebration Guide of the St. Patrick's Day in the US
The Origin of St. Patrick's Festival
St. Patrick's Festival has been greatly influenced by those of the Irish diaspora, especially those that originated in North America. Public parades and festivals, Irish traditional music performances, feasts, dances, and donning of green clothing or shamrocks are typically part of celebrations. Do you know the significance of wearing green? The expression "wearing of the green" actually stems from a ballad of the same name about United Irishmen being attacked because of their clothing. When the Irish Free State was established in 1922, the government ordered that all post boxes be painted green, using the catchphrase "green paint for a green people." Green was a prominent color in the flags of the 1916 Easter Rising. The government started issuing green Irish passports in 1924. The event has been observed in the US since 1600, and the first parade took place there in 1601. For the first time in more than 250 years, in 2020,the biggest parade in the world, though, was postponed because of worries about the COVID-19 epidemic. Many this year can't wait to get outside after unlocking to enjoy the festival with their friends and drink alcohol, especially Irish whiskey, beer, or cider. Kaabo USA welcomes you to celebrate in the joyous cities listed below. It might be cooler if you ride with your Mantis 8 or Wolf Warrior 11!     
Where to Ride to Celebrate
New York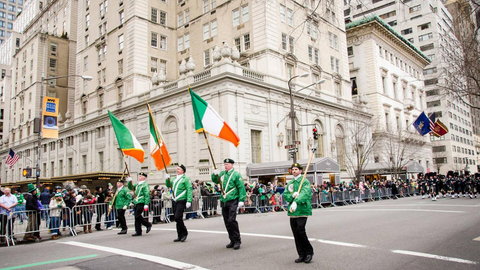 Photograph: Marielle Solan
First, take your dual-motor Mantis 8 for a ride around New York. The parade in NYC is quite significant. It is the world's biggest and oldest St. Patrick's Day parade. Irish pride has been celebrated since since the inaugural march in New York City in 1762. The St. Patrick's Day Parade will be held this year on March 17, starting at 11 am and lasting until 4:30 pm. The events may be seen well from anywhere along Fifth Avenue. Spectators are welcome to start lining up as early as they desire. You may join the procession, which starts at East 44th Street and marches up Fifth Avenue past St. Patrick's Cathedral at 50th Street all the way to East 79th Street, by riding your electric scooters. Moreover, it's best to ride than try to drive if you need to get somewhere in this region on parade day. You may find all the information you need about the parade below:
5th Avenue between 42nd Street and 86th Street
Madison Avenue between 63rd Street and 64th Street
Madison Ave between 78th Street and 86th Street
Vanderbilt Avenue between 43rd Street and 46th Street
43rd Street between Vanderbilt Avenue and 6th Avenue
44th Street between Vanderbilt Avenue and 6th Avenue
45th Street between Vanderbilt Avenue and 6th Avenue
46th Street between Vanderbilt Avenue and 6th Avenue
47th Street between Park Avenue and 6th Avenue
48th Street between Park Avenue and 6th Avenue
62nd Street between 5th Avenue and Madison Avenue
63rd Street between 5th Avenue and Madison Avenue
64th Street between Park Avenue and 5th Avenue
72nd Street between Madison Avenue and 5th Avenue
78th Street between Madison Avenue and 5th Avenue
79th Street between 5th Avenue and Park Avenue
80th Street between 5th Avenue and Park Avenue
81st Street between 5th Avenue and Park Avenue
82nd Street between 5th Avenue and Park Avenue
83rd Street between 5th Avenue and Park Avenue
84th Street between Madison Avenue and 5th Avenue
85th Street between Madison Avenue and 5th Avenue
Los Angeles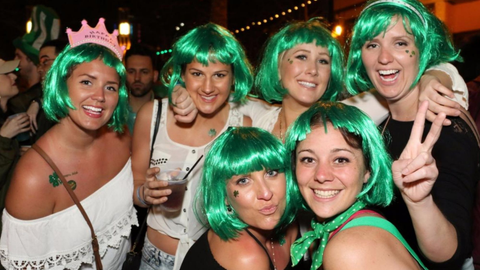 Photograph: Bucketlisters
Next, let's ride in LA. Los Angeles isn't really a town that celebrates St. Patrick's Day. The St. Patrick's Day celebrations in Los Angeles are perfectly complemented by our dependable Irish pubs and a booming beer and brewery sector. But compared to some other big American cities, March in Boston isn't nearly as shamrock-filled outside of a few events, concerts of Celtic music, and parades. These are a few St. Patrick's Day celebrations you may attend in Los Angeles this year; more will be added as the festival draws near. Here are some great locations for you and your pals to ride to: 
1. St. Patrick's Day Parade in Hermosa Beach (March 11, 2023)
In Hermosa Beach, the South Bay St. Patrick's Day Festival & Parade begins at 11:00 am close to the city hall on Valley Drive, turns left onto Pier Avenue, and concludes at the intersection of Hermosa Avenue and 10th Street. Bagpipers, unusual floats, horses, and dogs from the Irish Setters Club of Southern California are among the parade's participants. 
2. Pub Crawl (March 17, 2023)
St. Patrick's Day pub crawls through Irish bars like Finn McCool's in Santa Monica, Casey's Irish Pub Downtown, and Molly Malone's in Beverly Grove are also quite common in Los Angeles. The St. Patrick's Block Party is held every year at Rock & Reilly's Irish Pub. Live music and DJs are playing when it begins behind the Sunset Strip bar.
3. Rockin' Shamrock (March 11–12, 2023)
Take part in The Rockin' Shamrock 5K/10K/15K/Half Marathon or the 2nd Annual Leprechaun Leap 5K if you'd want to celebrate in a healthier way. Visit Seven Grand if you're a serious whiskey drinker who can't think of a better way to celebrate Saint. Patrick's Day than with a fine Irish whiskey. This pub offers a wide selection of Irish whiskeys in addition to delectable hand-crafted drinks. However, keep in mind that these drinks are supposed to be enjoyed, not chugged!
San Francisco
San Francisco must be the ideal location if you wish to experience the joyous atmosphere. One of the biggest Saint Patrick's Day celebrations in the world is held every year in San Francisco. There are over 100,000 spectators at the parade. It is always held on a weekend due of its size. March 11 is the event date in 2023. The block party for this year will be held at the United Irish Cultural Center on March 12. Many Irish dancing troupes, bands, and groups from the area participate in the Saint Patrick's Day Parade. Many significant San Francisco authorities, lawmakers, police officers, and firefighters will also be there.
The parade begins at Market and Second Street and proceeds down Market to the Civic Center Plaza, where the festival is being held. By 11:30 am, the parade begins, and it lasts for nearly two hours. Along Market Street, there is typically plenty of space to see the parade well, but as you approach Civic Center Plaza, it becomes more congested. You can view the parade's normal path in the chart below.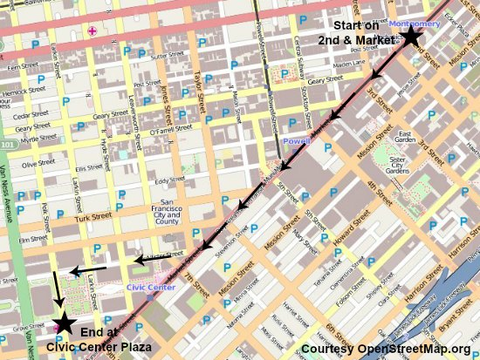 Photograph: JILL LOEFFLER
(Insider's Tip: I suggest locating a position near Market and McAllister if you plan to watch the parade with your children. The parade route turns here to travel toward Civic Center. You won't have to battle the crowds to get a decent view because there is typically lots of space here.)
Chicago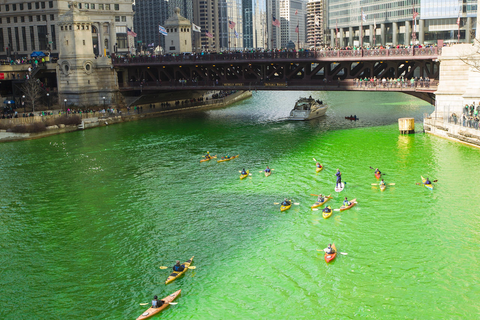 Another great destination to e-scooter to is Chicago. The first St. Patrick's Day parade in Chicago took place in 1858, drawing hundreds of thousands of onlookers who lined the streets along Lake Michigan to watch the floats, dancers, and marching bands. Chicago, Illinois' St. Patrick's Day Parade is an excellent location for you. It starts on March 11, 2023, from 12 to 2 p.m. The Chicago River is dyed at 9am on TBD to kick off the St. Patrick's Day celebrations. The Parade will start at Balbo and Columbus and proceed through downtown Chicago. While the procession units are traveling up Columbus Drive to the north, the viewing area will be in front of Buckingham Fountain. You can also become a member of the Green Chicago Ricers community. Chicago's St. A few hours before the St. Patrick's Day Parade, 100 pounds of dye are discharged into the Chicago River to turn it Kelly green. If it's frigid outside, bring a thick hat, gloves, and shoes. For a bright day, remember to pack sunglasses, suntan lotion, and a hat. The parade goes on no matter the weather.   
Conclusion
At this celebration, everyone is quite happy. Your traffic issues can be solved and your speed increased with a nice electric scooter. The Kaabo USA Mantis 8 weighs 25 pounds, which is a good weight for you and is simple to be folded and transport. Riding an electric scooter may be a preferable option if you find walking and driving to be too exhausting and inconvenient. You are awaiting the scooter, the drink, and the excitement! Although there may be a wait, Riding Kaabo USA often has short lineups. Hope you enjoy St. Patrick's Day with the help of our celebration guide.  
---
Related Product
Newletter
Promotions, new products and sales. Directly to your inbox.