E-Scooter Share Versus Personal Electric Scooters: Micromobility Comparison
We owe the rise in popularity and normalization of electric scooters to the innovative e-scooter share companies that are taking the United States by storm. With floods of shared electric scooters in cities like Los Angeles, or more recently, Manhattan, many people are opting to try out this new and exciting form of transportation. 
E-scooter share companies like Uber, Lime, Bird, etc. have become the focal point for e-scooter development in the USA. However, there is a lot of pressure on these companies in 2020 due to increased usage of e-scooters.
According to some detailed research from McKinsey & Company, there is a large increase of e-scooter riding interest due to Covid-19 and new habits in maintaining personal space.

*image received from McKinsey & Company 
While scooter share companies are becoming more pressured by local governments and riders for various reasons, personally purchased e-scooters are becoming the new norm. Many riders have turned to their favorite company to purchase an electric scooter for their own, private usage.
In this article, we will explore some of the benefits and drawbacks of using each option and why you might find that looking towards personal ownership might be the best option for your needs.
On E-Scooter Share Services
First, we will dive into the newly emerging world of e-scooter share services. This new trend of personal transportation is hotter than ever, with people using these scooters for commuting purposes or for daily transportation. Let's take a closer look at some of the defining features of these services.
Benefits of E-Scooter Share Services:
Low cost of single use
Easy to use Applications and familiar ecosystem (Uber, Lyft services)
Ability to hop on and off where-ever you please
No maintenance responsibility 
Drawbacks of Using E-Scooter Share Services:
High price for consistent, daily use. With an average single, 10-minute ride costing upwards of five dollars. 
Unreliable network of scooters, which might make it difficult for you to find a e-scooter close to your location 
Basic scooter construction, offering lower speeds and minimal safety features. 
Unsafe riding capabilities in even the lightest rain 
Low maintenance oversight, causing models with broken pieces or less-than-ideal operation
Exposure to a shared transportation, possibly unsanitary
Overall, many people that use e-scooter share services might find the benefit of riding only once a week or a few times in a month. Riders looking for daily electric scooter riding need not even consider ride share scooters, as they become much pricier and riskier for daily use. 
On Personally Owned Electric Scooters
This brings us into the other side of this inspection; personally owned electric scooters. Many riders across the United States are finding personally owned e-scooters much more suitable for their lifestyles and needs.
Kaabo USA is the leader of all-around performance electric scooters that provide the personal electric transportation solution for your needs.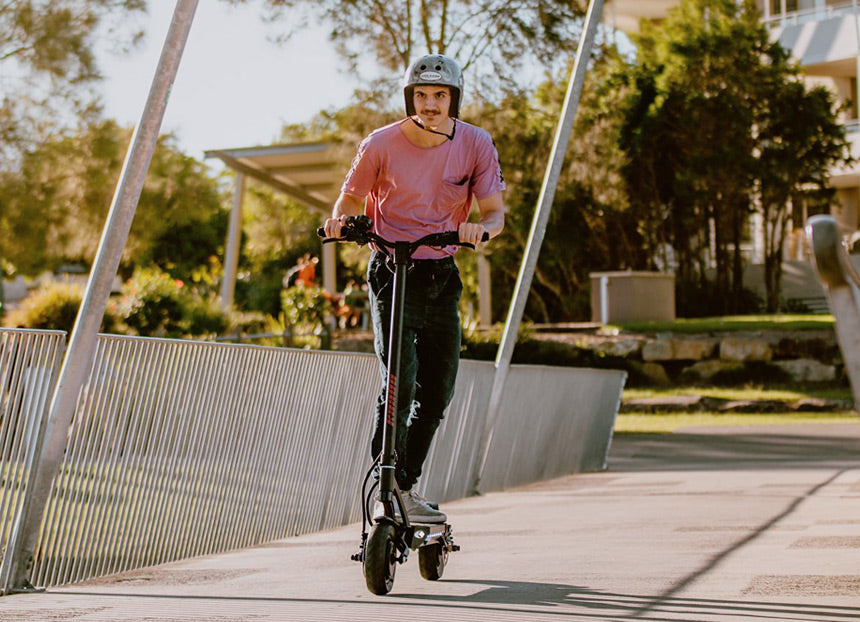 Benefits of Using Personal Electric Scooters:
One-time cost of purchase 
Complete ownership of your own electric scooter
Kaabo USA electric scooters lead the industry in safe design and performance in various road or weather conditions
Individual maintenance and control over customization
Always available
Individually owned scooter, no need to share with others!
Compact, foldable designs to fit inside your home or at the office
Drawbacks of Using Personal Electric Scooters:
Choosing the proper electric scooter (Hint: contact Kaabo USA for easy purchasing tips and information of how to choose the right e-scooter for you)
Individual maintenance (Hint: Kaabo USA provides a detailed e-scooter warranty for many parts. For other repairs or maintenance, we provide detailed support to make sure your Kaabo electric scooter is running like new)
Conclusion
Regardless of how you ride, electric scooters are posing to be the future of micromobility and personal transportation. For daily e-scooter riders, looking for a personally-owned e-scooter may make a significant difference to your daily commuting or transport needs. 
Cut down on yearly or month expenses with a personally owned electric scooter. Kaabo USA is here to help you get behind the handlebars of an electric scooter that is suitable for your needs.
If you have further questions about our scooters, feel free to drop us a message at: info@kaabousa.com  
---
Related Product
Newletter
Promotions, new products and sales. Directly to your inbox.