How to care for your Electric scooter?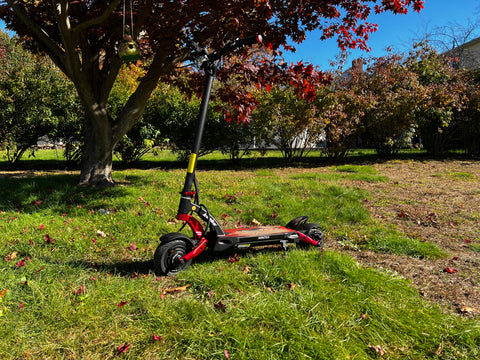 The dual-motor Kaabo Mantis 8 scooter is a combination of performance, luxury, and convenience. Its dual-motor setup, fine trims, aluminum grade material, powerful drivetrain, impressive battery life, and extended range are a dream come true for every e-scooter fanatic. While the aviation-grade 6061/6082 aluminum alloy frame and soft ride dual suspension are built to last, you have to take care of the scooter to ensure it keeps serving you for a while to come. 
And since it's an electric scooter, taking care of it is much easier. This article breaks down the basic things to do when it's time to give your Kaabo two-wheeler and once over and a shine. To keep your electric scooter in good condition, you have to ensure proper maintenance. Preventive e-scooter maintenance is keeping your scooter out of any damage and is an ongoing thing that you can do regularly. Corrective maintenance is a disaster waiting to happen. This type of maintenance will need a trip to the service station, and you won't be able to ride for a few days; it's what happens when you skip out on preventive e-scooter maintenance.
Generally, you want to do preventive maintenance on your e-scooter every once in a while, and here's how to keep your scooter on the road and not on the mechanic's garage. With a simple Allen key set, a wrench, and some other tools like tire levers, and multimeter or lubricant, and WD40, you can do it
Tire pressure
Having the 8" tubeless road tires on the Kaabo Mantis 8 running at the recommended tire pressure significantly improves your riding style and comfort. While you can think that you need to inflate the tires as much as the manufacturer allows, stick to the recommended max pressure allowed by the manufacturer. When the pressure is lower, you are slower, risk damaging the rims, have less rolling resistance, and your battery runs out a lot faster. Also, your tires will wear unevenly. Having the tire pressure too high is also a bad idea: it increases chances of a burst, the ride is really uncomfortable and is too jerky and jumpy, much harder to negotiate turns, and the tires are spent inconsistently. Also, after 1000 miles, you should probably consider changing tires.
Batteries
It's the brains of the operation, and you have to keep it in great shape. When you do decide to change it, visit a Kaabo Mantis 8 dealer to exchange it for a similar one. Batteries have cycles that represent their life, and after the cycles elapse, their life dwindles. Kaabo Mantis 8 packs a Ternary Lithium-ion 18650 battery, and you can use a digital multimeter to check the voltage and ensure the battery conditions are as expected. Since it's a 1000W brushless dual-motor setup, ensure the batteries are at 48V and 13AH. To keep your electric scooter battery healthy;
Try to keep it in places slightly above 0 degrees
Only use the original Kaabo Mantis 8 charger
Remember to unplug the battery after 6.5 hours for 2A or 3.3hours charging on 4A+2A supply
After a ride, charge the battery when the scooter has cooled down and not immediately after alighting
Remember the max range, and don't let it run completely flat
If it is flat, cool it down, then charge it
Clean it
It is no secret that keeping your Kaabo Mantis 8 e-scooter clean makes it look good. Give the mechanical parts like handlebars, brakes, and other levers, forks, fenders, kickstand, and lights a light wash and a wipe afterward and buff on the shiny parts. You'll also want to degrease the chain, remove the gunk using an eco-cleaner, and then wash it away. You'll need to be careful with the electric dual motor wheels, don't use soap or chemicals and take your time and ensure you catch any cuts or knurls on them. Finally, lubricate the chain after everything is dried.
Check the brakes
Brakes are essential, and riding without them being in good shape is a surefire way to get into an accident. The Kaabo Mantis 8 uses 120MM disc brakes that need regular servicing. Ensure the brake shows and calipers are tight-fitting but give your wheels enough spin room. Fine-tuning the brakes might take a while, so be patient and use the right tools.
It's not as complicated
Regular servicing of an electric scooter is crucial, just like with a car. Paying attention to regular maintenance will prevent any expensive breakdowns that could escalate things. Contrary to what you think, it takes a short time to run good maintenance and gives you that satisfaction that you took care of things, and you won't have to call the mechanic for a while. Just a few minutes of your time and some tools and your scooter will thank you.
---
Related Product
Newletter
Promotions, new products and sales. Directly to your inbox.