Introducing Upgraded Mantis 8!
Fans of Kaabo know that we have spent a long time researching and developing the New and Upgraded Mantis 8. Now after hundreds of tests the upgraded Mantis 8 is going to hit the market.
The new batch of Mantis 8 has arrived at the port and is waiting to be unloaded. Lots of Kaabo's Fans are waiting for their lovely and cool Mantis 8 and we'd like to thank them for their understanding and patience as the current state of the world has made the logistics and deliveries very challenging, to say the least.
But for now, let's take a look at some functions of the upgraded Mantis 8!
Outstanding night riding
There is a traditional opinion that riding a scooter at night is really dangerous because of the lack of visibility. Because of this, the Kaabo team installed two LED light systems on Mantis 8.
The users of Original Kaabo Mantis 8 know that it has LED sidelights on both sides of the deck. The sidelights make the road easily visible, which helps us to see our immediate surroundings on the road easily. Apart from that, the sidelights also let others notice us from afar reducing the possibility of an accident.
Now the New Mantis 8 also has an LED headlight which we are sure especially the nighttime joyriders will love. You won't be lonely on the road - Mantis 8 will be your best company. Moreover, the headlight isn't just a plain boring one but It's an adjustable headlight that can move 180 degrees so that you can make it a low beam or a high beam depending on where you ride.
IPX5 ranked waterproofing
We have upgraded the waterproofing level of the mantis to IPX5. What's the exact meaning? Here's a table explaining the different levels and test the products get pushed through.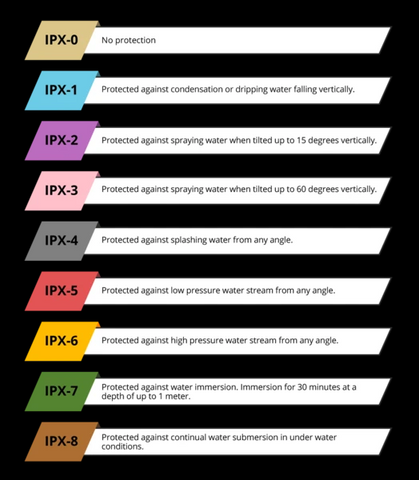 As seen from the form, Waterproof IPX5 means that the product is protected from a low-pressure water stream.
Two types of Horns
For the horn lovers we have fitted the Mantis 8 with not one but two different kinds of horns. Beep Beep!
We think that horns are really practical and cool. The scooter has a manual horn and an electric horn. Perhaps you can use the manual horn to be lowkey in quiet places and the electric horn when you need that extra oomph to get attention since it has a thicker and more powerful sound, just like saying "Get out of the way, I have places to be!"
No matter which kind of horn you prefer, this design adds more fun to your trip.
Kaabo Team is committed to researching more and more practical functions. In the future, we will keep on attaching more technical features to our e-scooters. The current version of Mantis 8 is the coolest scooter in the world! Join the big family of Mantis 8 Fans!
---