Kaabo Rocks ESG Customer Survey 2021
Kaabo Wolf Warrior and Mantis Series Keep customers on ESG's 2021 Survey Q1.
According to the "2021 Survey Results of 2381 Riders and  Counting" conducted by Electric Scooter Guide (ESG is a team that has spent hundreds of hours riding thousands of miles, performing rigorous real-world testing of over 77 electric scooters since 2019) on April 1, 2021. You can easily find that Kaabo Wolf Warrior 11, Mantis 8, Mantis 10, Mantis 8 Pro and Pro SE ranked at first, sixth, ninth, sixteenth and twenty-sixth place respectively.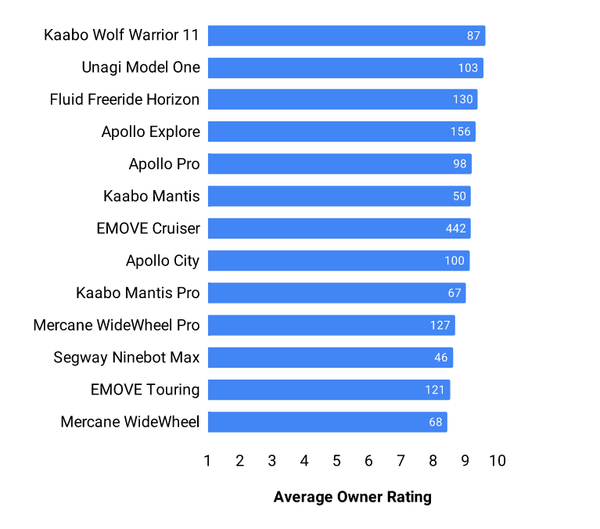 First of all, thanks to all the guys who voted for Kaabo and ESG for providing us with such a convincing and objective result. We are so happy to see that because it means Kaabo riders and customers are very happy with their scooters. We have always been committed to manufacturing electric scooters that can bring fun and joy to people's life, and let's work together so that everyone can rides Kaabo in the future.
We are open to comments from third party organizations and any consumers.
If you would also like to vote for Kaabo, you can enter via this link: vote for us
Once we get the Q2 results we will keep updating this blog and bring it up.
---
Related Product
Newletter
Promotions, new products and sales. Directly to your inbox.