Looking For The Best Electric Scooter For Beginners? Try The Kaabo Mantis 8!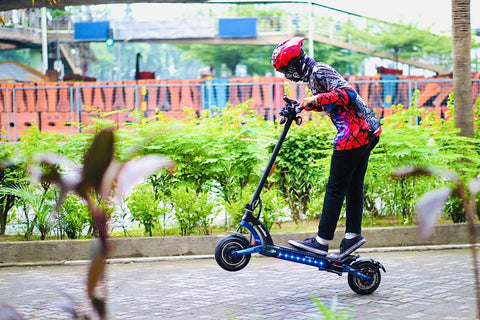 Let us face it, electric scooters seem to be everywhere these days. It seems like every corner you turn, particularly in major cities, you can see someone cruising around in an electric scooter. If you are new to the electric scooter world and are looking for a new e-scooter to ride, things can seem a little daunting.
There are so many models, designs, and styles out there that it can get confusing for an individual who has no idea what they are looking for. But not to worry, we have got you covered. We are here to offer you the best electric scooter for any beginner out there. The Kaabo Mantis 8. Don't believe, well here are 5 features that will prove to you without a reasonable doubt that the Kaabo Mantis 8 is the perfect e-scooter for any novice out there who is just getting their first scooter. 
Build Quality & Design
One of the most notable qualities of the Kaabo Mantis 8 is its sturdy construction and design. This electric scooter is made from an aluminum alloy that is really light but offers a stable build. This allows its stem to be more rigid than the electric scooters that came before it, which is a real comfort for beginners who can get spooked by a wobbly stem. The handlebars are well-padded with soft foam, which makes it more comfortable to control your electric scooter as a beginner.
Thus, the build and design of the Kaabo Mantis 8 make a really comfortable and safe electrical scooter for an individual who is stepping on a scooter deck for the first time.
Lights
The Kaabo Mantis 8 has three lights to help ensure you can easily navigate your way through the dark. It has one LED light on its front to guide your way, another LED light on its rear to act as its taillight, and a series of LED lights on both sides of its deck to make you more visible to others during the night.
This visibility is especially important for a beginner who needs to ensure that others can comfortably see them as they take their electric scooter through the town at night and more importantly, that they can comfortable see the road.
Plus, the Kaabo Mantis 8 also has turn signals indicators, which is practically unheard of for scooters going for under $1200. These turn signals light up at the front and rear of the scooter whenever the rider presses the signal indicator buttons on the handlebars.
This is a very important feature for a beginner electric scooter, as the novice has confidence in the knowledge that other drivers and riders will always know where he/she is going.
Easy Portability
The Kaabo Mantis has a net weight of 53 lbs, which is one of the lightest electric scooters that Kaabo has ever produced. This makes it easier to carry around for short distances. Plus, it has such an easy fold and unfold process that a person can easily complete within 20 seconds. What is even better is you can lock your Kaabo Mantis on its deck when you fold its stem, holding it in place. This way, your scooter stays compact when you fold it hence easier to store.
Dual Suspension
Most experts usually enjoy bumps. Mostly because they know how to smoothly navigate them, and with the right electric scooter, it can be a real thrill. However, beginners usually find bumps and bumpy roads harder to navigate and can actually throw them completely off balance, causing them to land on the ground or worse, get injured. The Kaabo Mantis 8 has a front and rear suspension, which makes it easier for a beginner to handle bumps.
The C-Type Spring Shock absorber present on the Kaabo Mantis dilutes the harshness of most bumps and takes in the shocks present while going through rough terrain. Thus, a beginner does not have to worry about their handlebars constantly vibrating as they try to ride through a rough road. These vibrations can get very uncomfortable for novice riders and can even cause them to fall off their scooter.
Braking System
The fact is, whether you are riding a car, bicycle, or a motorcycle as a beginner, you are going to need a good set of brakes. You need something that will efficiently stop your device when you need it to. The Kaabo Mantis 8 has one of the best braking systems you can find on most electric scooters. It has two dual hydraulic disc brakes and extra-wide tires that the brakes can easily clasp on when the brake lever is engaged. Thus, it offers a smooth stop that will not spook a beginner.
There you have it. 5 reasons that make the Kaabo Mantis 8 the best electric scooter for beginners.
---
Related Product
Newletter
Promotions, new products and sales. Directly to your inbox.