6 Years of Mantises - What makes Kaabo Electric Scooters Great
21st century, more and more electric scooters are appearing, some brands appear for a few months out and then disappear from the market. In such a competitive environment, Kaabo is celebrating its 6 years of escooters! What makes Kaabo a Premium Brand and Mantis 8 the leading Premium e-scooter?
Where it started
Kaabo was founded in 2013. In the past six years, the founder of Kaabo's motto has been "Devote to changing life by practical technology". All this time Kaabo has been experimenting and researching the best ways to build electric scooters, from the components to the materials and assembly. All this hard work has made our vision of premium electric scooters to become true. Today Kaabo has released 3 series of scooters-- "Kaabo Wolf Warrior" "Kaabo Mantis" and "Kaabo Skywalker", Kaabo Mantis was released in 2018 to be a compact and high performing escooter for most road conditions. Whether it's in a city or off the beaten path where Mantis has always shown us its power and reliability.
It's this kind of practical experience and pedigree that Kaabo wants to build. When you buy Kaabo you can rest assured that you are riding a scooter that has the history back its claims - rarely seen in this wild scene of escooters where brands come and go.
Building a Community
Today Kaabo's community has spread all over the world, covering 20 countries already. Kaabo has become a company that has teams, service, customers, and fans worldwide!
We are proud to have millions of people driving Kaabo's e-scooters. Bringing people the joy of riding with premium escooters that offer great performance, longevity, and reliability. It's also not just our own claim that these scooters are great, after many reviews and feedback from reviews we are very proud of our product. To put our money where our mouths are We offer customers 18 months warranty. Apart from that, we are willing to offer help to every scooter player, such as technical support and purchase rare accessories.
Time has proven that our products are reliable and our brand is credible. Plenty of customers have become fans of Kaabo, they send their life photos with Kaabo e-scooter to us. We are confident to keep on making great products that people love in the future.

What makes Mantis 8 a Premium eScooter
The shape of the Frame
Mantis 8 has a one-piece body. The shape of Mantis 8 was entirely created by us. We use a pure black body design that gives a low-key and dignified feeling. The one-piece body makes our scooter more stable, especially the part where the head end and body are connected promises users safety when they make a sharp turn. Moreover, the shock-absorbing springs that are not easily removed, means that our Mantis 8 is created at the professional factory systematically rather could be assembled by someone. In a word, Mantis 8 will support your use for a long time without breaking.
The other brand e-scooter has the assembled whole body. Putting aside their appearance copying, their whole scooter could be removed with a multifunctional wrench. Their shock springs can be removed individually which is dangerous for your commute.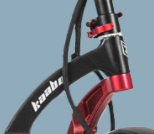 Braking efficiency
Mantis 8 installs the "ZOOM 120mm Disk brakes" + EABS, this size of disk brake will stop the scooter in a second and will be responsible to passersby and users. Apart from the great brand brakes, Mantis 8 gains the best brake system-- EABS Electric Brake System. Unlike the previous mechanical brake cut-off method, the EABS system applies a new braking control idea, when there is a brake signal, the electric wheel immediately brakes, and the faster the speed the more obvious the braking effect. The EABS electronic braking system will not consume battery electric energy, on the contrary, in the moment of braking and downhill braking will produce a short time to recharge the battery, although the action time is short, for the battery pole plate can play a certain maintenance effect, which is conducive to extending the service life of the battery. The part where the screws are exposed is all covered by the protective sleeve that extends the life of parts. High-grade items are perfectly detailed.
The other low-level scooter installs the disk brakes as well, but if you are unlucky nobody knows where and what these brakes are made. Their brake system totally relies on these two disks. Maximum speed braking time is not guaranteed, and it's a gamble for customers. The screws of the whole scooter are exposed to the air. In the long run, the parts are very easy to deteriorate and the service life is a concern.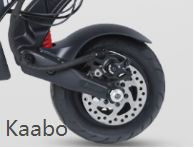 Lights and visibility
Mantis 8 installs the built-in lights on both sides of the board. This design is not only cool equipment at night, but also is difficult to damage these lights cause they are built-in. Moreover, the new batch of Mantis 8 has been upgraded, a LED headlight is equipped in the front of the scooter. The angle of the headlight is adjustable, which allows low beam and high beam. Kaabo Mantis 8 always cares about people's security and practicality. We put the safety of our customers' the first PRIORITY!
Many other e-scooters are equipped with plastic light at the rear of the body. This tail light looks very cheap and looks very easy to damage. For example, when you go outside and put your scooter in your car trunk, the lights are easy to get crushed and broken.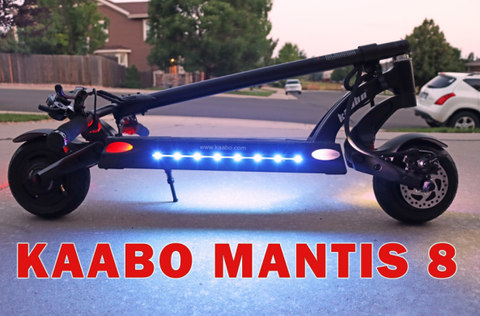 Charging efficiency
Kaabo ships Mantis 8 with a "54.6V 2A" charger for customers, it will take around 6 hours to fully charge. Maybe you guess it's a little long, so we also support charging with 4A+2A current for three hours for a full charge. Our charging system uses high technology that supports 2 kinds of electric current. Briefly, we provide a way for special customers to save their time.
As for normal e-scooters, the "2A" charger is their only choice which will spend more than 7 hours to get a full charge.
Battery Quality and Usage
Mantis 8 battery is Ternary Lithium-ion 18650. The capacity of that is 13Ah. Although there are some bigger capacity battery e-scooters, the real-life range is the same. This happens because the actual quality of the batteries differs a lot - even the cells of batteries are unique - that is why we at Kaabo test every cell that goes into our batteries by ourselves.
What we use the energy for also differs quite a lot. Some scooter brands tend to use big LCD screens for marketing purposes since they look cool and attract people's attention. In real-world use, these actually drain the battery a lot while offering poor visibility in bright daylight conditions.
Mantis's screens are designed to offer vital information like speed to the rider at a glance without taking their minds and eyes off the road - while consuming very little energy from the battery this is why the same screens can also be seen in our Ultra Performing Wolf Warrior lineup!
The motto of Kaabo: "Devote to changing life by practical technology". We always concentrate on practical function and scooters performance rather than eye-catching equipment.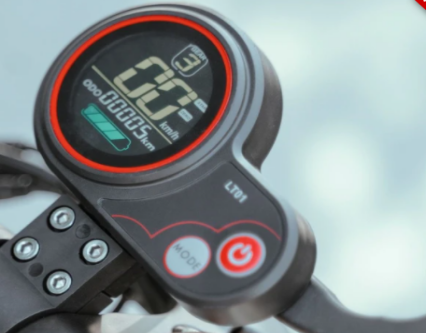 Portability functions
Weight
Mantis 8 is 53 lbs which is lower than the often seen 66lbs mark. This saved weight while retaining the integrity and performance of the escooter is possible because of the optimized usage of the materials and battery capacity. The frame of the Mantis 8 is built from Aviation Grade Aluminium which can sustain great stress and doesn't wear off easily - meaning that you can ride the scooter in with peace of mind while also being able to carry it with ease.
Other main parts that affect the weight are the battery and motors themselves. Due to the fact that Kaabo optimizes their batteries with their motors the pair can be built to offer a great range without making the scooter unnecessarily heavy.
Folding
Folding - The Great differentiator. Who knew that the folding of an escooter could prove to be so challenging. Every Scooter brand tends to have its own way of folding the stem. Some are better than others.
Early Mantises also tackled this issue. How to make an easy-to-use folding mechanism without sacrificing the Stem stability. Since the first Mantises Kaabo has developed a completely new and patented way of folding.
Mantis 8 folding tightness can be adjusted and the entire folding process can be completed in 5 seconds. This certainly makes it very convenient for you to travel with Mantis 8. Not to mention that the stem is super solid when riding the scooter - a feature that often gets mentioned in the reviews of Mantis Scooters since it is what often makes or breaks a scooter.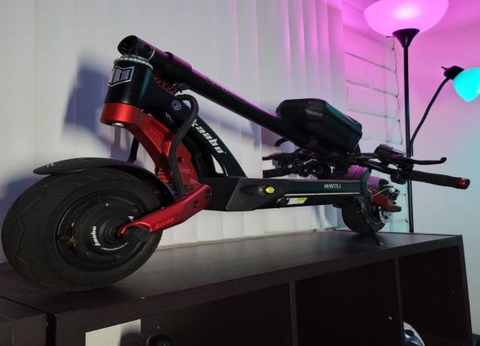 To sum up, it is the attention to detail that makes Mantis 8 a premium escooter in real-world use and stand out from other e-scooter brands. Tested technology and better details are what make our customers very satisfied with their Mantises.
"Devote to changing life by practical technology"
Upgraded Mantis 8 will be in stock at the end of Sept. Don't miss out!
---
Related Product
Newletter
Promotions, new products and sales. Directly to your inbox.