Imagine your electric scooter usage scenario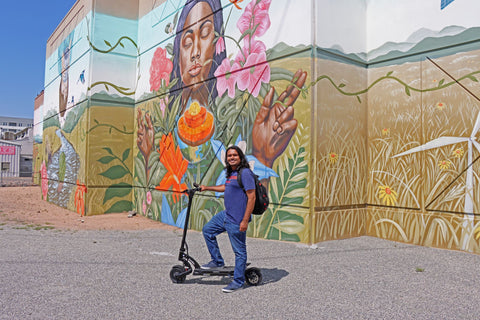 Are you still considering that Mantis 8 is a commuting tool merely? You are extremely wrong! I have collected many useful ways from the customers and even our employees. We're so amazing about the wide number of places where Mantis 8 could be used. 
Commuting in the City
The most common use for escooters is commuting in the city.  Now shared scooters are a common sight in the cities but as people are getting their own ones you start to see e-scooter riders in the city streets, who are riding even faster than cars.
These premium escooters like Mantises often have multiple operating modes. The single motor mode - which means that only your rear tire is working - is good for riding on flat roads or going downhill. The dual-motor mode is the one that lets you just blaze through the city and has amazed large numbers of users because it's terribly powerful. You can feel like the ripping power when you accelerate on dual-mode and both wheels are delivering the power to the road. With this, it's easy to ride uphill or even on some awful condition roads thanks to the added traction, kinda as 4x4 cars do.
At Campuses
Some students complain about how far away the lecture rooms are from each other and how getting to class on time can be difficult. That's why they opt for escooters and having your own means that you are not dependent on finding an available shared one.
We recommend using the scooter in the single motor mode as it meets the needs on campus and it's safer to ride at slower speeds. You can arrive at your classroom in time without sweating, even in summer. It's a good choice for campus commuting. Especially when you're occupied with your final terms and papers and need all the time you can.
Students also needn't worry about their scooters being stolen, thanks to the lightweight and folding feature of commuting escooters like Mantis 8, you can take it in your dorm easily. We believe it can improve your campus lifestyle well.
 At resorts
I believe you have already seen the video that shows taking the Mantis 8 out of the boot of a car. An electric scooter is the best choice for your vacation, especially at the beach or camping area even in the jungle. When you arrive at the realm that far from the modern city, you just need to enjoy your brisk ride and splendid scenery. You can also easily get from one sightseeing place to the other.
 Getting around in your community
When you need to purchase some domestic things or snacks, you can ride your Mantis 8 at some nearby places, such as shops and department stores. Some people even ride escooters when they are walking dogs. Your dog will love you as you can do some fun long walks with them, and maybe if your pal gets tired the deck might fit you both.
It's also super convenient to visit your friends with. When riding Mantis 8 to your acquaintance's home you don't need to spend time finding a parking place like you do when using a car. It's an efficient and joyful journey overall.
 Get your own Mantis 8 now
So how was it? did some of those use cases fit your needs? Whether they did or if you have a new way to use your scooters feel free to check out Mantis 8 here and share your usecase with us on our Facebook or Instagram!
Happy rides!
         ---Kaabo USA Team
---
Related Product
Newletter
Promotions, new products and sales. Directly to your inbox.