Tips on How to Store Your Kaabo Electric Scooter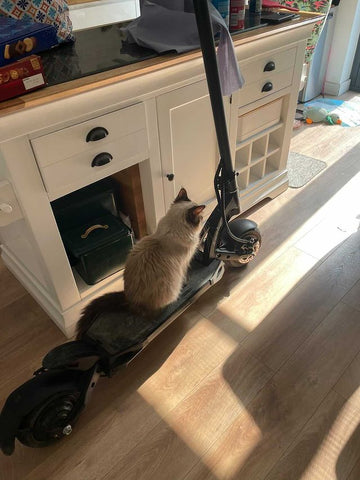 Why, after a few months of inactivity, does your Kaabo e-scooter not operate as smoothly and effectively as it once did? This is the cause. You are unaware of the steps you must take to properly store electric scooters. How and where were they stored? An electric scooter's lifespan can be extended and its ability to ride smoothly ensured for years to come with proper maintenance and storage. Here are some pointers on how to correctly store your electric scooter. When you use your scooter again, it's crucial to keep it in good shape. 
Where to store your electric scooter
While storing a scooter for an extended period, location is crucial. Your scooter may be kept in good shape and protected from the weather in the right location. Scooters require extreme caution when handling and storage because they are delicate machinery. While selecting a suitable storage area for your scooter, keep in mind the following factors:
The perfect room temperature is 10°C/50F. Choose a dry, shaded area away from the sun. With time, the scooter's plastic and rubber parts may degrade due to exposure to the sun's rays. It is entirely reasonable to store anything in a garage, basement, or attic, but if you don't have access to one of these spaces, you can, if your closet is big enough.
Making ensuring the area is dust-free and clean is equally vital. The friction between the scooter's moving parts can increase if there is too much dust on it. This may cause the components to degrade more quickly or possibly jam. The device's internal electrical components may also be damaged by the dust. Shorts and overheating concerns may result from this.
To avoid condensation forming inside the scooter, make sure the environment is sufficiently ventilated.
If at all feasible, elevate the scooter off the ground to keep it from resting in puddles or pools of water. The tires will last longer if you do this.
To keep the scooter from resting in puddles or pools of water, lift it off the ground if at all possible. Moreover, the tires will be preserved in this way.
Taking Care of the Battery
A 48V 13AH Ternary lithium-ion 18650 battery powers the Kaabo Mantis. The battery is the most crucial component of the scooter as well as the most crucial stage. You want your battery to last as long as possible. This entails giving your battery the proper care it needs, which may involve some surprises.
Every two to three months, recharge it. Never charge it in a space that is colder than 0°/32F. The battery life could be shortened and it could be damaged. Doar chargerul original is folosit.
The unexpected part is that you should only charge between 50 and 70 percent. This is greater than 100% and more than sufficient for storage. This will maintain a robust battery capacity.
If you have a trickle charger, you may use it to maintain the battery's charge; if not, you'll need to check on it from time to time and recharge it as necessary to ensure that it doesn't go below the 40% level.
The battery should be taken out as a best practice. This will enable you to maintain the device within the appropriate temperature range and check that the connections and cables are sound. It should be put in a bag or other container. By doing this, you keep it from being soiled or moist.
Battery Disconnect - If at all possible, unplug the scooter's battery before putting it away. By doing this, the scooter's power supply won't be passively drained and the connectors won't corrode. This will go a long way toward protecting and maintaining the top condition of your battery. Check connectors, wiring, and the surrounding battery area for any obvious defects after removing the battery.
Your electric scooter's charging outlet needs to be properly sealed shut to keep moisture out.
Clean your scooter before storing it
Before storing, give your electric scooter a thorough cleaning. As a good habit, you should always perform this from time to time. This blog will broaden your perspective on cleaning and upkeep. How to Wash Your Electric Scooter
Wipe it out with a moist cloth as part of the routine maintenance to get rid of the grit, dust, and filth. By doing this, you will be able to keep an eye out for any problems that might be lurking beneath the dirt.
Inspect the connectors; they might need to be sprayed or tightened. Moreover, it will stop rusting.
Put it in a waterproof cover
Mantis 8 can withstand minor showers thanks to its IPX rating of 5, but not in extremely humid conditions. The battery's life will be impacted by humidity. We advise against spending a lot of time in a humid atmosphere. This may improve how well the scooter is used. Check out this blog to learn more. Water-resistant vs. Waterproof: The Difference? Your scooter should be further protected after being placed in its box by being enclosed in a waterproof cover..
In the winter, moisture is your scooter's worst enemy, and basements, cellars, and garages frequently flood or have dripping ceilings. You'll feel a lot more at ease with that waterproof cover.
The majority of waterproof covers are reasonably priced and completely enclose the scooter, making it feasible for it to survive even in a flooded basement.
Here are some pointers on how to correctly store your electric scooter. I hope it will be useful to you. Enjoy your ride!
---
Related Product
Newletter
Promotions, new products and sales. Directly to your inbox.