Unbeatable performance with the Kaabo Mantis 8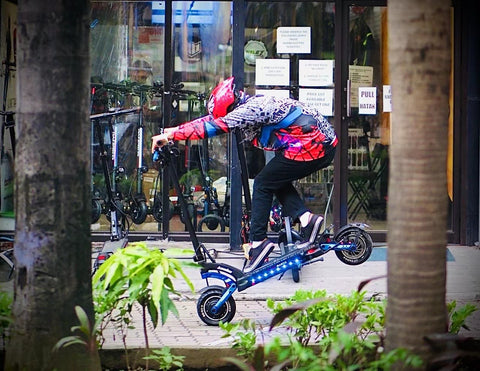 Despite its small frame, the Kaabo Mantis 8 dual motor scooter from the Kaabo Mantis lineup offers a sweet spot balance of power, buttery-smooth handling, plush suspension, and reliable braking on top of drop-dead gorgeous looks underscored by top-level performance.
The Kaabo Mantis dual-motor scooter is lighter, nimble, and super quiet, with all the features to make daily commuting enjoyable. The exceptional dual spring suspension makes riding the Kaabo mantis 8 pleasurable with smooth acceleration and a solid ride quality.
If you crave powerful acceleration, the Kaabo Mantis 8 has a top speed of 25mph; all this comes from a 48V 13AH lithium-ion battery-powered dual brushless motor setup of 500W that pumps out a resounding 25NM top torque. Accelerating from 0 to top speed is effortless.
Coming in at a lean 53lbs, the Kaabo Mantis 8 responds quite nicely to acceleration. The wide base and strong rubberized brake levers with mechanical disc brakes and sine wave controller gives you full control and stability
Solid build
The deck features solid construction, and the ergonomic design makes it easy to plug and play with the components. It features an understated all-black stealthy appearance, and you won't think it can plow through hills or get to 25mph speeds.
There's a lot to love about the ride quality on the Kaabo Mantis 8. It feels fun and playful and is built for confidently jumping over speed bumps and damping impact for riders and payloads of up to 264lbs. Its T6082 Aviation Grade Aluminum build checks your durability boxes.
You can negotiate corners, hit top speed on straights, and go over rocky terrain with ease with the soft-ride dual front and rear spring suspension and wider-than-usual pneumatic tires offer great damping for smooth, pretty soundless riding. The Kaabo Mantis 8 is a confident dual-motor scooter built for daily commute.
The fortified one-piece, forged aviation-grade aluminum frame is rock solid with zero wobble or creaking due to stronger welds for the heavier components. The handlebars offer a comfortable pull back for great wrist comfort, and the dual 120mm disc brake + EABS design requires less effort on your part. With the reduced handlebar and lever travel distance, the Mantis 8 guarantees safety with a shorter reach to the break. The sine wave controller offers advanced performance settings with all the buttons and controls with a clean, streamlined appeal and won't get in your way when folding or unfolding.
Arm pulling acceleration
When you get the settings maxed out and grabbed a finger-full of throttle, the mantis 8 comes to life. Its dirt-spitting wheels whizz through terrain and overtake while maintaining a distinct feel of control. The Kaabo Mantis 8 powers up hills and inclines of 20 degrees without breaking a sweat. Its formidable speed at 25mph is undeniable fast enough to keep up and merge with traffic or race other two-wheelers when you feel like it.
Even when faced with repeated starts, stops, hills, and on its max performance setting, you can get a range of up to 25 miles from the Kaabo Mantis 8 dual motor scooter. If you want more range, conservative riding and tuning will get you more miles per charge. But if you run out of juice, the Kaabo Mantis dual-motor scooter only needs about 7hrs on 2A charging or 3.3hrs on dual charge. Braking on the Kaabo Mantis 8 is effortless. Paired with the C-Type Spring Shock Absorber, the brake response, braking distance, and stopping power is solid. The kickplate also allows you to increase traction and comfort when riding.
The 8" street-ready tubeless tires on the Kaabo Mantis 8 are made for the road. Their smaller agile profile gives the Mantis 8 a nimble feel. They have a great, sturdy profile with plenty of sides to comfortably roll over ruts in tandem with the suspension to soak up jarring impacts. The tires can easily take on both urban and off-road terrain, but you get the best of it in a smoother, better-maintained roads.
The rubberized deck on the Mantis 8 feels great to stand on when riding. The sturdy deck makes changing footing less of a near-death experience. It is solidly pinned down, so you won't have any flapping in the wind. The matte deck has anti-slip traction and is also much easier to clean.
Extra features to improve the ride quality
The extra feature package is quite nice with turn signals. The Kaabo Mantis 8 also includes standard white front deck lights, rear lights, and white under-deck swag lighting to offer just the right amount of illumination without bedazzling or reducing visibility.
The mantis 8 offers a comfortable and long-range ride without making too loud of a noise about it. Its high performance and impeccable build quality are a no-brainer when it comes to choosing an electric scooter.
---
Related Product
Newletter
Promotions, new products and sales. Directly to your inbox.