What makes Kaabo Mantis 8 the best Compact Performance Scooter?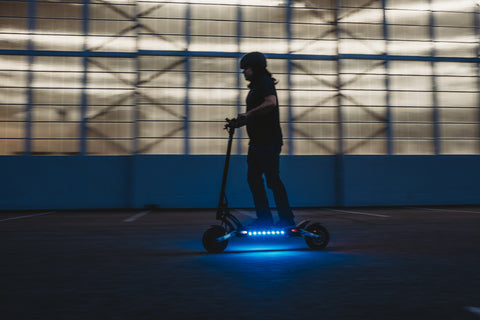 Kaabo is an industry-leading brand with a superior lineup of performance scooters for every use, from getting to work, zipping to the store to off-roading and everything in between. The Kaabo Mantis lineup extends the benchmark of quick and quiet modern conveyances with ingenious design, superior performance, impeccable handling, and unmatched durability. The latest Mantis, the Kaabo Mantis 8, is an electric scooter that ticks all your electric scooter boxes from the dual electric motor to the Aluminum alloy frame. Its jaw-dropping power and nimble handling make it a comfortable yet powerful ride, just what you need in a two-wheeler.
The Kaabo Mantis retains the same fantastic torque, speed, acceleration & handling, impeccable build quality, and extra features, with the notable exception of being just the right size. As the shy member of the pack, it doesn't shy away from offering best-in-class performance. Here's why the Kaabo Mantis doubles up as a compact electric scooter and an absolute road machine.
Perfect size, even for bigger riders
The Kaabo Mantis 8 features a rock-solid aluminum alloy stem on top of a C-spring suspension. Combined with the wide 8" street-ready tubeless tires, it feels great when riding with no wobble or flex, even if you are a heavy rider. When unfolded, the Kaabo Mantis 8 measures 45.6*23.6*46.8 inches (1160*600*1190mm) and folded at 45.6*23.6*18.7 inches (1160*600*476mm). It's the perfect length necessary to have all your feet comfortably on board. Despite weighing in at only 53lbs, the Kaabo Mantis dual motor electric scooter can accommodate riders of up to 264lbs, and the performance doesn't even break a sweat.
Intense acceleration
The acceleration with the dual 2x500W motors is super smooth. Its dual 25NM torque electric motors, Sine Wave controller, and 48V 13Ah battery can propel you to 24km/h in 4.9 sec. and a top speed of up to 25mph (40km/h)-which is plenty fast on a scooter. Despite being the smaller sibling of the Mantis family, its sleek acceleration is perfect for daily commuters who prefer a smooth ride over bare, raw speed. The sensation of driving the Kaabo Mantis 8 is refreshing. The throttle is responsive, and you can feel the motor roar the instant you squeeze the accelerator.
Hill climber
The Kaabo mantis 8 knows its way around slight inclines and gradients of up to 20 degrees but begins to struggle when it's too steep, and the road is unevenly surfaced with gravel or rocks. You will need to stay on dual-motor and turbo mode for better uphill performance.
The last one standing
The range on the Kaabo Mantis 8 is great for daily commuting. The Mantis features a 48V 13AH Ternary lithium-ion 18650 battery that can last up to 25 miles on a single full charge; it takes 3.3 hours with its 54.6V 2A charger. Since it's a dual-motor electric scooter, riding on a single motor can give you considerably more range, albeit with conservative performance. You can choose between several modes depending on the charge and, obviously, your mood. You can choose either Eco or Turbo, dual or single motor mode right from the handlebars.
Reliable braking
The Kaabo Mantis 8 has dual 120mm disc brakes and 8" extra-wide tread tubeless tires. The combo provides an impressive braking distance of up to 3.2m, and the regenerative brakes have a distinct feel and sound that seamlessly engages even with a slight pull of the lever. The EABS system onboard and the LED lights running on the side, undercarriage, and rear, plus the bright turn signals on the e-scooter deck, make nighttime riding slightly safer, although not advised.
Remarkable ride quality
The smooth acceleration, dual front and rear suspension, and wide tread tires all make driving the Kaabo Mantis 8 scooter as satisfying as it can get. The front suspension and shocks keep the handlebars stable even on bumps. The wide 8" street-ready tubeless tires provide maximum grip and excellent traction, especially when cornering or turning at speed, even in wet conditions.
The dual suspension features C-Springs both front and rear with adjustable preload making it adaptable to every rider. If you want a dual-motor electric scooter that offers comfortable on-road and off-road cruising, nimbleness on turns and bumps, and the feel that you are in control, the Kaabo Mantis 8 over-delivers on that and more.
The Kaabo Mantis 8 is a practical, minimal hassle electric scooter that can fold into an easily-packable solution. As a solid 'last-mile solution,' you get a slick ride that handles itself quite well. The Kaabo Mantis 8 cuts the gimmicks and delivers on solid performance, intense acceleration, and reliable battery range; all packed in a comfortable Aluminum alloy frame. Electric scooters are not created equal, and the Kaabo Mantis 8 is more than a scooter with batteries; it has the looks and the power.
---
Related Product
Newletter
Promotions, new products and sales. Directly to your inbox.