What Makes Mantis 8 the coolest looking escooter on the market?
I have ridden lots of e-scooters, and in terms of design alone, the Mantis 8 is in my opinion the best-designed scooter under $2,000. Let's see why I think that.
Premium black finish
There is a saying that goes: BLACK is the most difficult color to work with. For example, many products, in general, are in pure black but the black in some premium products like expensive mobile phones always looks and feels very textured, whether it's glossy black or frosted black or graphite black. On the other hand, some of the cheaper black phones give the impression that they are plastic and very cheap in general.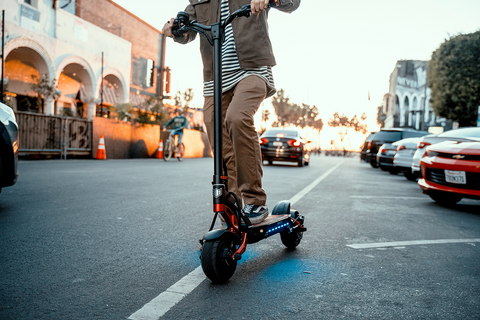 I think that Kaabo Mantis 8 gives the same feeling like those premium phones. The frame of the escooter has a frosted black texture. The whole body has a very heavy metal feel. If you're a style-conscious rider, you'll fall in love with the Mantis 8 at first glance.
Built-in deck light
If you have viewed some e-scooters websites, you will find that seldom brands use the built-in deck light. They always only install a headlight in the front of the stem. That's because of the very high production costs of the built-in LED light strips that some manufacturers avoid them but that's not the Kaabo way - we insist on installing the LED light strips directly on Mantis 8 deck.
It looks absolutely lit - pun intended - and it greatly improves rider safety. If your scooter has deck lights at night then others are more likely to notice you.
Upgraded Mantis 8 has both headlight and deck light. It makes sure that you're the highlight of the night. 
Made of metal
Many customers who have reviewed our scooters often mention that most of the parts of the Mantis 8 are made of metal instead of plastic. Everyone knows the difference between plastic products and metal products. The usable lifetime of metal products is much longer than with plastic ones but in terms of style, the most important part is that metal will make you feel that it's a premium product. Plus, metal can be safer when it comes to accidents as it doesn't shatter like glass or plastic can.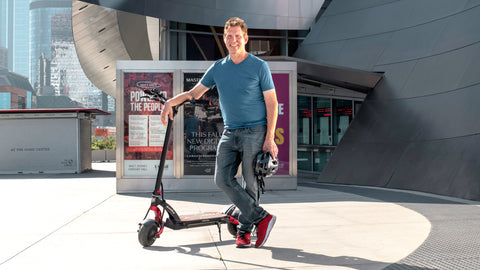 ---
Related Product
Newletter
Promotions, new products and sales. Directly to your inbox.