What makes Wolf Warrior 11 Pro+ the best off-road Scooter?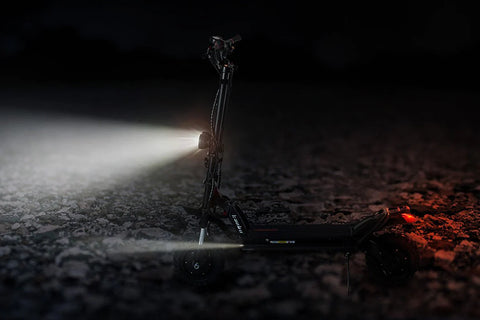 Are you in the market for an e-scooter that will take you far beyond your routine commute? The kaabo wolf warrior 11 Pro + is the real deal. This insanely powerful mini vehicle is a perfect cross-breed of an electric scooter, a motocross racer, and a mountain bike. 
This beast combines strength, speed, power, and range to deliver incredible performance on all terrains. Even though it was primarily designed as an off-road monster, on slick tires which are optional, you will also find an alternative to many conventional long-range vehicles.
Motor and battery
The power of this scooter is extraordinary. It has two motors, each coming in at 1200W. Just one motor offers more power than many other scooters. A 35Ah LG battery fuels the motor, providing speeds up to around 50 mph. If you're interested in getting the most range possible, the Wolf Warrior 11 can travel 70 miles in single-drive and on eco mode.
Because the battery is so big, it takes a while to charge. With just one charger, it will take at least 14 hours to fill the Wolf up from empty. However, if you always recharge after a ride - which is what's recommended for electric scooters - you'll never have to wait that long. If you get a second 2A charger, you're looking at a 7-8 hour charge time.
Speed & Acceleration
Oh yes definitely! A lot of both! This is one of the fastest electric scooters around. The top speed is a whopping 50 mph (80 kph) and the acceleration is scary. In dual-motor turbo mode, it does 0 to 15 mph (24 kph) in 1,9 seconds with an average rider weight of 165 lbs (75 kg).
You will reach 40 mph (64 kph) in 9,4 seconds and a top speed in about 11 seconds depending on your weight. Make sure to bend your knees as both tires will be spinning when you pull the trigger throttle. But they will still provide plenty of grips to propel you forward.
And a word of warning is appropriate. There is zero throttle lag. The response is brutal as soon as you touch the throttle. If this is the first time you are riding such a powerful scooter, it would be wise to start in single motor mode before you get used to all that explosive performance.
And we definitely recommend a certified motorcycle helmet as the only choice of head protection for the Wolf rider.
Hill Climbing
kaabo wolf warrior 11 pro + hill climb. With all that motor power in hand, 5400 watts, even steep hills are almost a joke for the Wolf Warrior. It will climb and it will climb fast and without hesitation. Even in a 10% slope, with average rider weight, you hit 25 mph (40 kph) within 65 yards (60 meters) or so.
Even 30% inclines are on the menu for this Wolf.
Range
Motor configutation. The Wolf has dual motors that produce 2400 watts of continuous power in combination with double 40A controllers and a peak power output of 5400 watts. That's part of what makes this electric scooter one of the most powerful scooters on the market.
Suspension
All that hard riding over rough terrain means you have to have top-of-the-line suspension. And the Wolf does not disappoint. Dual hydraulic shocks in the front and dual spring suspension system soak up imperfections in the terrain with remarkable ease.
It's perfectly balanced. Not too soft yet not too stiff.
Lights
On such a heavy-duty electric scooter there is no need to skimp on lights. The Wolf warrior has two LED super bright headlights. A proper big red LED taillight, as well as ground effect and side deck lights. You will be seen and be able to see very well even in pitch dark circumstances.
The front lights have three different modes; bright, low, and blinking. You can adjust them horizontally or vertically.
Braking
The Wolf Warrior 11 features dual front and rear hydraulic brakes with massive ventilated calipers manufactured by Zoom.
The brake levers themselves are high quality and thick. Brake activation is buttery smooth, consistent, and very linear. Brake activation force is minimal, and two fingers are sufficient to brake maximally.
Electronic anti-lock braking system (EABS)
The Wolf also features what they call an "electronic anti-lock brake system" (EABS), though it's not a true ABS-like car. On our test model, this came enabled by default. As you start to brake, this system will activate, quickly pulsing an electronic brake (via the motor) that is a little unnerving, but fairly strong.
There really isn't any advantage to this feature, and we recommend disabling and using just the rock-solid hydraulic disc brakes.
Tires
Here is where you have to make a decision depending on where you plan to ride the most.
The Wolf Warrior comes with either 11 inches (27,9 cm) knobby off-road tires or the same size slicker tires.
The off-road tires will be the wrong choice for tarmac and smoother surfaces. You will spin a lot, especially under acceleration, due to less of a contact patch. But on rough terrain, they are heaven.
The smoother tubeless pneumatic tires are the way to go if you don't plan to go off-road at all. They are more stable at higher speeds and have better overall traction on the tarmac and other similar surfaces.
Display
The EY3 display is very popular and is being used by some other manufacturers as well. It features a large LCD screen with three buttons to select gears, mode, power, and a trigger-style throttle.
Water Resistance
The Wolf has an IPX4 rating which means it is resistant to water splashes in any direction. You can use it in rain but not completely submerge it in water. And chances that you will be riding in the wet are big. After all, this is an off-road long-range powerful scooter, and venturing out and having fun will happen in different types of weather. 
Construction
There are a few construction features worth talking about. The dual hydraulic shock absorbers on the front of the scooter are the kind that most motorcycles use. This means that even if you're going over rough terrain, your ride is smooth. The dual-spring suspension system at the rear is also essential for off-roading. Even when you're moving at really fast speeds, these features keep the scooter safe and stable.
The tires on the kaabo wolf warrior 11 pro + are impressive. They measure 11 inches and give the electric scooter around 8 inches of ground clearance. Bumps and hills are no problem. You have a choice between more rugged off-road tires or smoother on-road tires. If you plan on sticking to paved roads, you'll want those on-road tires. The off-road tires are designed for bumpy terrain.
Constructed with a tubular steel frame, the electric scooter can hold up to 330 pounds. It does weigh a massive 101 pounds, however, so it's not a portable model. It can be folded up, but you'll need a pretty big trunk if you're taking it somewhere and it isn't designed to be carried.
---
Related Product
Newletter
Promotions, new products and sales. Directly to your inbox.