Why Mantis 8 is the best electric scooter for beginners?
Recently, some customers have asked us about how to choose an electric scooter for their daily commute. Many of our customers are beginners with electric scooters and we at Kaabo USA would like to give a few tips for all our fans on this subject.
Safety is the most important factor
Entry-level escooters usually come with basic brakes, perhaps one disc brake at the back. Compared with those e-scooters, the Kaabo product team has spent much money and time searching and developing the safest system as with any vehicle the braking speed/distance is the most important factor to make your ride safe.
Kaabo's scooters come with disc brakes front and back and eABS systems to make the braking intelligent and conserve energy. Entry-level escooters are usually made for a top speed of 15 Mph but as Kaabo's scooters like Mantis 8 have a max speed of 25 Mph or more the braking systems need to be on a whole different level.
It's not only the brakes that affect the distance but the wheels and their traction play an important part too. Narrow and solid tires offer less traction to the road so their braking power is also lower resulting in a longer braking distance. Kaabo normally uses tubeless tires which in Mantis 8 are 8 inches in size and made for road usage so they offer great traction on tarmac/city environment with paved streets. For off-roading and loose sand nubbed tired offer superior traction. 
Thanks to the brakes and tires Mantis 8 offers great performance when it comes to braking distance and safety while conserving battery.
Easy to fold and store
Mantis 8 is a really versatile vehicle. You can fold and unfold the scooter in a jiffy using the head screw and fold the headstock easily. It's easy to carry too as the net weight of Mantis 8 is 53 lbs. You can store it almost anywhere, corner of your room, office, garage, and so on. It's practical to take it with you in the metro, bus, or upstairs in the elevators. It's the best choice for people who can't live their scooters outside or live in city apartments where you need to take the scooter inside with you when you are not using it.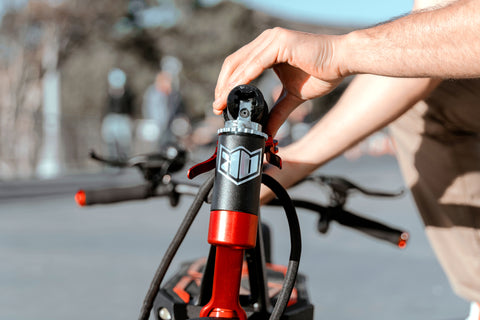 Best anti-slip silicone mat on deck
Many other brand scooters use sandpaper as an anti-slip material and we have to admit it is very cost-effective. It's an original way of covering the deck on scooters but we do prefer a silicone mat to that. Firstly, silicone anti-slip pads are thicker and give the scooter a more substantial feel. Secondly, it's more convenient when you need to give your scooters a bit of a wash as it can handle water better. Lastly, the performance of anti-slip silicone is better than sandpaper, because the friction coefficient of the silicone mat is higher. You won't slip while riding, even in light rain. Of course, we recommend that it is best not to ride in the rain as it's not good for your electric scooter.
Excellent handling
Mantis 8 is very easy to handle - when I rode it for the first time, I couldn't help but exclaim "Wow, it's so comfortable to control." When you turn, there is no resistance and the turn is as close as you can imagine. If I had to describe the feeling of handling the Mantis 8 in one word, it would be "silky". It's the best e-scooter for beginners and tasters. The compact size really makes it nimble and easy to handle for all sizes of riders.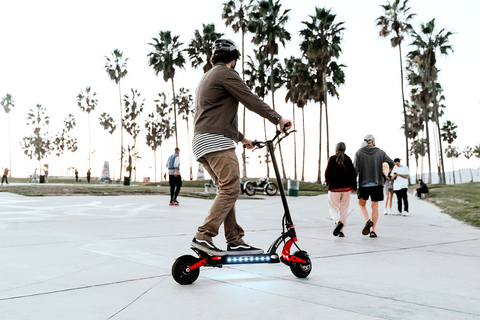 Great performance for beginners, commute, and leisure
Mantis 8 has a great appearance but it also offers great battery and motors. The max range of Mantis 8 is about 25 miles thanks to its vigorously tested battery. The max speed is 25 mph and it gets there fast especially with the Dual Motor model that Kaabo USA offers. Our max speed is an average number taken in many test scenarios. In some circumstances, it reaches 27 mph. It's easily sufficient speed for commuter and leisure needs without being too hard to control for beginners. Scooters going faster than that demand a more experienced rider to ride safely. All in all, Mantis 8 is a great scooter for most people's needs. 
Join the big family of Kaabo Mantis 8. We believe it's an excellent choice to take your electric scooter life to the next level! Shop Mantis 8 now!
---
Related Product
Newletter
Promotions, new products and sales. Directly to your inbox.