Why do we refuse the solid tires?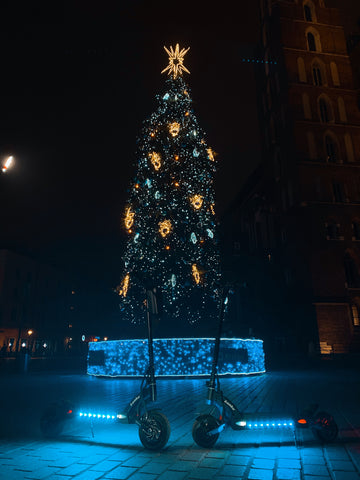 We have experienced thousands of experiments this month. Because a new branch of Mantis 8 is under efficient manufacture, we must develop a more pragmatic and superior e-scooter. Tires are the key part of electric vehicles. Fortunately, we insist to use the tubeless tires on the updated Mantis 8. Do you want to know why? Many brands are claiming that their solid tires are perfect, but we are standing in a completely opposite side. They have attracted customers' eyes on a narrow scale. We will explain to you the reasons why we could only install the tubeless tires on Mantis 8.
Solid tire is suitable for low-speed vehicles
Let's look at the public streets in the city. The shared bicycles and scooters are installed a pair of solid tires, because solid tires could save the budget and it matches the ponderous and low-speed vehicles like a bike. Conversely, Mantis 8 max speed of the single model is above 14 mph, that of the dual model is around 27 mph. So, it's reasonable to proclaim that powerful electric scooters need to use tubeless wires rather than solid tires.
Solid tires are cumbersome
The scooter that installed solid wires is heavier than tubeless wires. The heavier solid tires mean that they are subjected to more friction and are likely to be unable to charge up large angled slopes due to too much friction when going uphill. Briefly, the superior vehicles will prefer tubeless tires, such as cars and planes.
Tubeless tires have a better effect on shock absorbing
Tubeless tires have space inside the tire. It allows people to decrease the shock from going downstairs. But the solid tires couldn't, you should have ridden on the flat city road only. Because of the special way of manufacturing, vacuum tires allow you to run both off-road and in the city while having more traction on uphill sections in the city.
The price of the tubeless tire is higher
Let me show you two pics from a public shopping platform. The price of a tubeless tire is $38, which is $15 more than that of a solid tire. We affirm that the Mantis 8 with high prestige needs to install the best replacements, such as a pair of tubeless tires.
Now, Christmas is approaching, why not purchase a Mantis 8 as a present to yourself or otherkin? I believe with the company of Mantis 8, this Christmas will be really unforgettable. Make your pre-order with a $150 discount. We suppose to start shipping at the end of Jan. It mainly depends on the logistics company. However, there is a 90%+ chance of on-time delivery.
Wish you Christmas!
          ----Kaabo USA Team
---
Related Product
Newletter
Promotions, new products and sales. Directly to your inbox.