Start an exciting riding experience with Mantis 8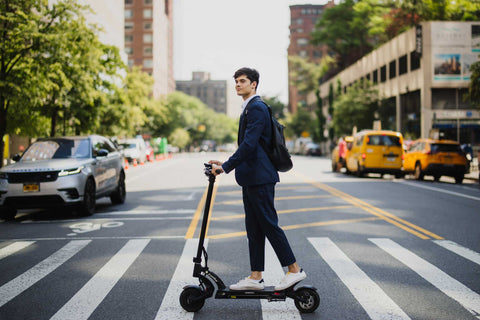 Commuting can be boring, or it can be exciting. Here we introduce KAABO Mantis 8--our latest e-scooter with upgraded performances. 
48V-13AH Large Battery
The Mantis 8 scooter is built with a 48V-13AH lithium-ion large battery. Once fully charged (which only takes several hours), it can go as far as 25 miles. This long endurance offers you one of the most convenient commuting options for short-to-middle distances. Unlike driving cars or other public transport, there is no traffic, no oil cost, and no maintenance fees. This e-scooter completely solves the last-mile commuting issue.
25 Miles Per Hour
Designed with two 500W motors, the Mantis 8 offers a combined power of 1000W (peak power: 2200W). These motors provide a strong power take-off that ensures fast acceleration and generates a top speed of 25 miles per hour. With its high torque, our scooter is able to climb 20-degree sloping roads with ease. Choose Mantis 8, and reach your destination quickly.
Steady and Safe
Personal safety is no doubt the most important issue that you are concerned about when riding an e-scooter. To make sure our customers can stop the scooter steadily anytime they want, we use 120mm disc brakes (with EABS) for the front and rear wheels on Mantis 8. When the rider pulls the lever, a piston pushes the brake pad outwards toward the rotating disc, creating friction that slows down the vehicle.
Sturdy and Compact
Built from T6082 aviation-grade aluminum, the mantis 8 scooter bears a maximum weight of 264 lbs. It is sturdy enough for an overweight grown man, while it only features a compact size of 45.6" x 23.6" x 46.8" and can be folded for easy storage. 
If you are still worried about the traffic and high costs of commuting, then choose KAABO Mantis 8 e-scooter and make your daily life easier.
---
Related Product
Newletter
Promotions, new products and sales. Directly to your inbox.